Recent Evolution and Improvements in Sneaker Technology
Called by many names, the shoe known as sneakers, trainers, plimsolls, or athletic shoes are here to stay. In 1839, Charles Goodyear produced a pair of shoes with rubber soles, thanks to discovering the process of vulcanization.
After the rubber-soled shoes gained popularity, it was only a matter of time before they dominated athletic footwear options. American rubber companies, Adidas, athletic stars like Chuck Taylor, and the functional capability of sneakers fueled their success in the market.
The sneaker has pretty much remained the same, regarding the design of shoes offered by major labels like Chuck Taylor. However, the use of celebrity endorsements, new materials for making shoes, and ecological consciousness have made their imprint on the sneaker.
The sneaker has been a staple shoe for schoolchildren during gym classes, markers of social status, a way to dress down fashionably, and a symbol of various countercultures worldwide.
As fashion and the needs of humans continue to push forward, the sneaker has evolved. Aside from the options of sneakers for running, playing basketball or tennis, or just going out in a casual street style, the sneaker continues to advance in form and function.
Jumping Forward from the Basic Sneaker
Sneakers are a crowdpleaser, perfect for pairing with a pair of jeans or leggings, hitting the basketball court, or wearing at work or class. The body and makeup of the sneaker haven't changed much, until now.
Most sneakers have been constructed with a canvas or leather upper, rubber sole, and tied up with laces. Sneakers have afforded those who wear them, a modest to the full amount of cushioning support, improved stability while walking or running, and protection against the elements.
However, much has been desired of modern-day footwear, including concerns such as sustainable construction materials, improved shock absorption, and even the ability of shoes to lace themselves.
Especially since many shoe companies have created partnerships with athletes and celebrities to sell their wares, it makes sense that consumers have demanded more from their shoes.
Sneakers are available in a range of colors, materials, and are not always inexpensive when they have particular technological advancements. Consumers clamor for sneakers that provide a familiar feel and look without breaking the bank. Avid sneaker collectors may seek out sneakers for their limited numbers available, or if made from rare materials.
For the most part, the sneaker has maintained its structure and look. Some sneakers released are laceless and use Velcro closures. Other sneakers have gotten creative with the style and function of laces or added the ability to add a cushion of air with the press of a button. Even more fascinating is the use of LED lights between the layers of a sneakers sole.
When you get a sneaker, you're sure to expect a canvas or synthetic material based shoe, with a secured sole that may or not have treads for traction, and laces.
The sole of a sneaker may either be attached via welting, vulcanization or cementing it to the body of the shoe.
Sneakers are capable of delivering a minimal fashion statement or cause people to break their necks in admiration over the colorful laces, shoe body, and overall look.
Current Sneaker Improvements That Are Turning Heads
Being able to customize your laces, inserting insoles, or choosing to paint the body of your sneakers is no longer the only way to improve the look and feel of sneakers. Thanks to advancements in shoe technology, the sneaker is coming into its own regarding reinvention and usefulness.
Due to concerns over sustainability, climate change, and the use of plastics in manufacturing, more sneakers are being developed with reclaimed waste products or transformed sustainable natural materials.
Reinventing The Sneaker With Reclaimed Refuse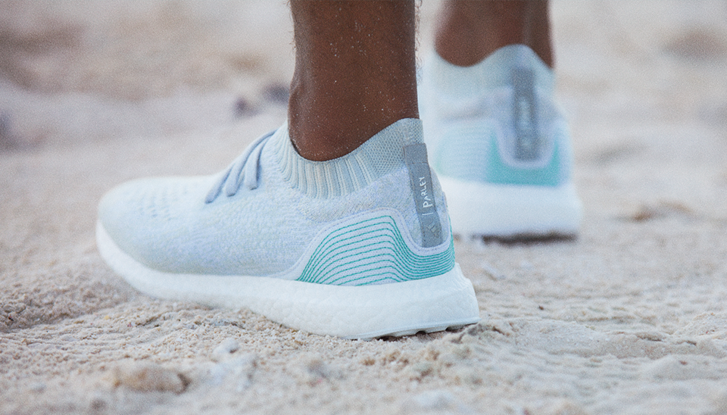 Increasing amounts of plastic and other human refuse is a huge problem. Considering the ecological impact that the fashion industry has, and a modern society that thrives on regular consumption of goods, Adidas stepped up to the plate by enhancing shoe technology. How? Reusing refuse to make shoes.
Ocean waste that lies teeming on our planet's oceans gets collected and is reformed to create a unique sneaker that brings attention to pollution. The sneaker's upper part is constructed using 5% recycled polyester and 95% plastic derived from around the Maldives. Each sneaker is estimated to contain the equivalent of 11 plastic bottles, and the heel, laces, and the lining use recycled materials.
Even better with these sneakers, is that they are created using revolutionary 3D printing technology.
Vivo barefoot and Bloom have also come together to create shoes that use algae-based foams, creating footwear that is sturdy, lightweight, and ecologically responsible materials.
Shoes That Move When You Move
If you could imagine your sneaker stretching or compressing against your foot as you move throughout the day, you're not dreaming about the future. Thanks to the ability to scan your foot, it is now possible or sneakers to be custom designed with malleable materials that are comfortable, allow for air circulation, and continually adjust to support your foot.
Adidas, known for its popular kicks, has created an app that lets consumers get a 3D rendering of their future shoes. The Deerupt allows for sneakers with shock-absorbing technology, distribution of force created by heel impact, and a shoe that conforms to your foot's exact contours.
Ergonomically designed shoes with a personal touch, capable of molding and effectively supporting the foot are a dream come true for runners and walkers.
LED Lights Bring The Party
Solely created for fashion, but practical for increasing nighttime visibility when out biking or walking, sneakers made with LED lights built-in are popular with young and older sneakerheads alike. Sneakers with LED lights within the soles charge using a USB cord and allow wearers to change up their look with a range of various vivid fluorescent colors.
Some LED sneakers on the market will light-up in reaction to playing music or sync up with a smartphone app using Bluetooth technology.
Self-Tying Laces
Some sneakers require no lacing up, allowing consumers to slip their feet in, as the laces are pre-set and give wiggle room as necessary. However, newer sneakers are being released using an internal cable system with a pressure sensor.
When wearing self-tying shoes from companies like Nike, the HyperAdapt sneaker's fit adjusts with the touch of a button near the tongue. The cables can tighten or loosen up using an algorithmic equation, so you have stability and a comfortable wearing experience all day long.
You'll know that your shoes are working their magic, as LED lights in the heel light up when adjusting the fit, or when there's a low battery. These sneakers and their technology were inspired by the movie, Back to The Future II.
Waterproof Kicks That Keep Feet Fresh, Clean and Dry
Most waterproof shoes have a downside of leaving your feet sweaty and smelly because of the materials used. Thankfully, Vessi Footwear has developed a sneaker using a waterproof knit material, which allows for enhanced air circulation, and better regulates and distributes moisture.
So, your feet can stay nice and dry and comfortable, while unwanted moisture from falling rain stays out. As an added plus, Vessi's Flash-Kint Technology material is lightweight, easy to clean, and doesn't have any seams to compromise the shoe's integrity to resist water.
Savvy Fabrics Keep Sneaker Lovers Connected
Science and technology have sparked the imagination of what is possible for sneakers. Instead of relying on only canvas or leather for a sneaker, shoes are being developed with fibers and materials that may eventually become reactive to external stimuli or can connect to smart devices without sacrificing style and function.
While more technologically advanced sneakers make their way to the market, Under Armour has developed the US HOVR Sonic and UA HOVR Phantom that cushions feet and utilizes energy return.
3D Print Your Sneakers to Order
Similar to the uses of 3D printing to create sneakers made from more sustainable or natural materials, New Balance is also utilizing 3D printing to create specific structures to build sneakers. 3D printing provides the opportunity to focus on cushioning support and implement data to develop an enhanced sneaker.
Shifting The Perspective on Sneakers
As the Internet of Things continues to become the new norm, it's no surprise that apps and technology are more integrated with our fashion. Shiftwear is a brand that allows sneaker lovers to customize the look of their shoes using their smartphone.
The sneakers developed by Shiftwear, and funded via an Indiegogo campaign, are resistant to dirt, stains, waterproof, and can charge while walking using human energy. These futuristic shoes are just another example of how far the sneaker has come along in modern-day society.
Sneaker Improvements and Technology Have A Vibrant Future
Once humanity develops a pretty great idea, improving upon a staple item like the sneaker is a continual adventure in enhancing form, function, and integration of technology. Shoes have been used for practical protection against the outside world, to play sports, or express an effortless casual style.
Despite existing for over a century, the humble sneaker continues to transform itself according to the demands of humanity, as a fashion icon, and beloved for its versatility.