How Shoes Have Changed Over The Past 50 Years
It's impossible to know who invented shoes.
And for those of us obsessed with footwear, that's a little bit frustrating.
How in the world are we supposed to know who to thank, after all, for the works of art available today at our local shoe stores?
To wear dreams on one's feet is to begin to give a reality to one's dreams." — Roger Vivier
Well, we may not know exactly who invented shoes, but we managed to find out who the key players were for all your favorite styles.
We Don't Know Who Invented Shoes, But…
In 1991, researchers found a mummy in a glacier in the Ötztal Alps.
That mummy is notable today because of what it had on its feet — an ancient pair of deerskin shoes.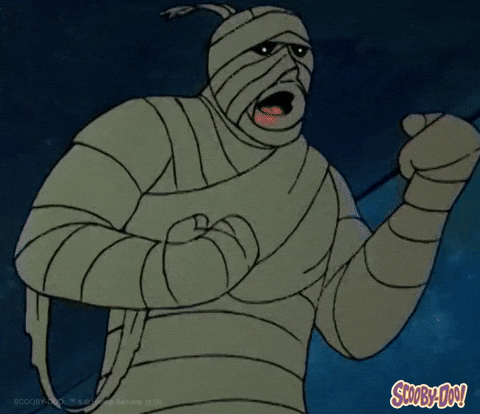 It turns out that even 40,000 years ago shoe tech was more advanced than you might think.
Take a look at a photo of the shoe:
Using the materials on-hand, the Ötztal people used woven linen bast for ties, grass fibers for cushion, and soles made of bearskin.
Apparently, comfort 40,000 years ago was a little itchier than it is these days.
Notable inventions
Even though we can't find out who invented shoes, we did find some remarkable people whose designs and innovations brought us the shoes we know and love today.
For example, in 1858, Lyman Reed Blake invented a particular sewing machine capable of sewing the uppers to the soles of the shoe.
"Give a girl the right shoes, and she can conquer the world." — Marilyn Monroe
Then, Jan Ernst Matzeliger developed a machine that attached the uppers of the shoe to the sole in a whole new way in the late 1800s.
The machine, called a Lasting Machine, revolutionized how manufacturers created shoes.
Almost overnight, instead of only 50 pairs of shoes a day, Matzeliger's machine could pump out 700.
Did you know?
The tiny plastic covering on the end of your shoelaces is called an aglet.
The Running Shoe Revolution Started With Keds
These days, nearly everyone owns at least one pair of athletic shoes — aka running shoes or sneakers.
Well, even though we don't know who invented shoes, we do know who invented the first rubber soles that started the running shoe revolution.
Vulcanization and Keds
Rubber-soled shoes all started at a company most of us know for tires these days — Goodyear.
Goodyear developed a ground-breaking technology at the time with the coolest name ever — vulcanization.
Did you know?
The term "sneakers" originated because of the lack of sound coming from the rubber soles.
Vulcanization is the process that effectively melts the rubber sole to the fabric of the upper.
Goodyear used vulcanization to create the first-ever athletic shoe — Keds.
Let's talk about Chuck Taylor
We can't talk about who invented shoes without talking about who invented the first basketball shoe — Converse.
In 1908, Converse Rubber Corporation opened its doors.
Back then, basketball was as popular as it is today.
However, at that time, the shoes available to players were not very useful. So, Converse, who was making rubber boots at the time, developed the original Converse basketball shoe in 1917.
And much like Keds, Converse did so well you can still find the shoes all over the place today.
Check out the video below for a brief history of Converse:
Did you know?
In 1936, the U.S. Basketball team adopted Converse as its official shoe.
Shoes And Celebrity Endorsements
Long before the days of Air Jordan, celebrity athletes started to endorse their favorite shoe.
We found out where it all began.
Not only was Converse the first company to make basketball shoes, but it was also the first company to use a celebrity to help create and endorse them — Chuck Taylor.
Check out the video below:
Converse was so far ahead of its time, actually, that it wasn't until the 70s that celebrities started endorsing footwear in such a way again.
Adidas
Then, along came Adolph Dassler and Adidas.
Dassler's work was revolutionary because in 1920 he started using running spikes on shoes.
Dassler designed different types of spikes depending on the type of running the person did. For example, long-distance versus sprints.
Those spikes marked the first time in history that manufacturers created shoes specific for different types of running.
The New Balance Difference
Then, in 1962, New Balance came out with a shoe that directly influenced running shoes as we know them today.
Shoes and politics:
For decades, many people viewed others who wore sneakers as delinquents. In 1979, the New York Timeswrote an article titled, "For Joggers and Muggers, the Trendy Sneaker."
That year, New Balance released the very first scientifically-tested shoe.
And you won't believe this:
That shoe only weighed 96 grams — in other words, less than a pound.
Now, Let's Talk About Who Invented Shoes Over The Past Five Decades
It's time to bring things a little more current.
Don't worry!
We get into dress shoes and heels soon.
Now that we have an understanding of what our great-grandparents were up to — let's talk a little bit about grandma and grandpa's time.
The Recent Revolution In Athletic Shoes Started with Nike
In the late 1970s, the athletic shoe market went through another revolution, and we know who invented shoes that started the whole thing — Bill Bowerman and Phil Knight.
Otherwise known as the guys who started Nike.
In 1958, the two men were both at the University of Oregon. Phil Knight was a business major and a runner on the track team.
Knight often spoke with Bill Bowerman, track and field coach, about the "clumsiness," of the running shoes available at that time.
Fun fact:
In 1972, Bill Bowerman poured melted rubber into a waffle iron in his kitchen. He probably never used the iron to make waffles again, but he also created the waffle sole and revolutionized the industry… again.
So, using what he learned from Knight, Bowerman created a whole new type of running shoe.
Then this happened:
The two men formed a company to market the shoe — at the time called Blue Ribbon Sports.
"The only one who can tell you 'you can't' is you. And you don't have to listen." — Nike
The two men renamed their company Nike in 1978.
The morbid story behind Nike's favorite slogan:
In the late 1970s, there was a man on death row named Gary Gilmore. When the executioners asked Gilmore if he had any last words, his response was, "let's do it."
Years later, In 1988, Nike's profits were down. So, the company hired Oregon-based advertising executive Dan Wieden to help turn things around. He's the one that came up with "just do it," using Gilmore's words as inspiration.
NASA and Nike
While we can't know who invented shoes, we found out that Nike teamed up with NASA and created the world's first air-cushioned shoe in the late 70s.
Check out this commercial from around that time:
Frank Rudy used trapped gasses encapsulated by plastic to create cushions for a runner's feet.
Nike called the first shoe released with this technology the "Air Tailwind."
Celebrity Endorsement Explosion
The late 1970s and early 1980s marked the first time since the 30s that celebrities directly endorsed shoes.
You remember these guys:
Walt Frazier, Stan Smith, Kareen Abdul Jabbar, and Arsher Ashe all joined Chuck Taylor with their own signature shoes.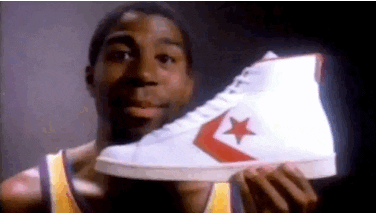 Then Michael Jordan came along:
In 1984, he changed the game entirely when Nike introduced his Air Jordans.
Watch how Air Jordans developed over time in the following video:
Once signature shoes happened for sports stars, other celebrities got in on the action.
RUN DMC
These days, it's not unusual for musical superstars to have their own shoe or line of shoes.
However, in the 1980s when RUN DMC released the track "My Adidas," collaborations between musicians and sneaker companies were unheard of.
Keep in mind:
When RUN DMC wrote this song, the band had no intentions of working with Adidas.
Shoes and politics:
RUN DMC wrote, "My Adidas" in response to a novelty song called, "Felon Shoes" which was written to discourage kids from mimicking people in prison by wearing the same sneakers.
One of RUN DMC's managers, future Def Jam honcho Lyor Cohen invited Adidas executive Angelo Anastasio to witness the group performing the song.
You see, every time RUN DMC sang, "My Adidas," everyone in the crowd would hold up their shoes.
Look:
Well, after Anastacio witnessed that, 19 more executives came to see RUN DMC's next performance at Madison Square Garden.
After the dust settled and the Adidas executives watched hundreds of their shoes raised above the crowd — RUN DMC signed a historic $1 million endorsement deal.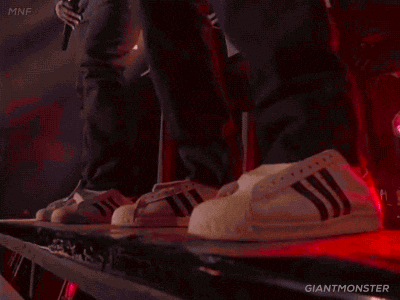 As we know:
After RUN DMC, the idea of celebrity-endorsed sneakers caught on like wildfire and everybody, and their brother got in on the action.
Reeboks and Aerobics
It's sad that we can't know who invented shoes.
However, we did find out who invented shoes made for aerobics, and it saved a company from sliding into oblivion.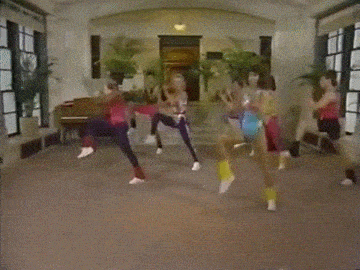 Reebok had already been around for several years by the early 80s.
But there was bad news:
The British company was struggling to find its footing in an incredibly competitive US market.
Well, Reebok struggled to find success until it developed the Freestyle Aerobics shoe, that is.
Reebok's Aerobics shoe was the very first of its kind for a couple of reasons:
It was the first time a shoe company used bright colors on an athletic shoe

It was the first time a company created an athletic shoe designed specifically for women
And here was the result:
Reebok scored big with the aerobic shoe because of the influx of female customers as well as the aerobic exercise craze.
From the Track to the Runway
In summation, we have learned some pretty cool things about athletic shoes so far.
First, one guaranteed way for a shoe company to create a best-seller is to work hand-in-hand with the people that wear them.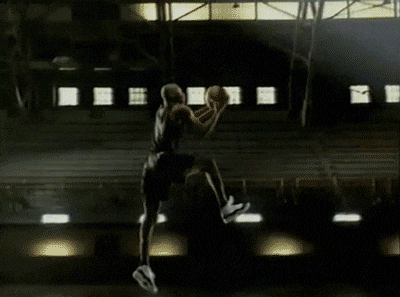 And that's not all:
Second, celebrities and politics have been a part of sneaker culture nearly as long as sneakers have been on the market.
Let's Switch Gears
Finally, for those of you chomping at the bit to get to other types of shoes — here we are.

We realize that athletic shoes are far from being the only game in town.
First, let's talk about men's dress shoes.
Dress Shoes for Men
The manufacturing breakthroughs we talked about at the beginning of this piece had as much influence over men's dress shoes as they did on athletic wear.
Unlike women's shoes:
Styles for men haven't changed all that much over the past five decades.
However, we do have a few notable moments from that time.
"You can never take too much care over the choice of your shoes." — Christian Dior
Since around 1945, men's styles became more diverse, and the price point for quality dress shoes dropped significantly.
Then, in the 1950s:
Youth fashion became much more popular.
That trend created a greater degree of experimentation from the people manufacturing men's footwear.
The most popular styles of men's shoes:
Oxford: closed-laced shoe
Derby: like an Oxford, but open laces
Brogue: can be either Oxford or derby and stand out because of ornate designs/patterns

Monk strap: a set of buckles and a flap instead of laces
For example, the most popular men's styles in the 1950s were black, brown, and sometimes white oxford or loafer style shoes.
And here are some others:
Overall, the materials didn't have any distinctive markings or anything that made them stand out in any way.
However, thanks to the influx of both youth fashion, hippies, and disco, by the end of the 70s, some men were wearing these:
Fun fact:
Men's shoes have had some interesting names over the years including brothel creepers, Chelsea boots, and winklepickers.
It's Time to Talk About Shoes for Women
We've learned a few significant things so far:
For example, the social climate and economy of the times have a huge effect on what people manufacturing the shoes get up to.
Fun fact:
During WWII, thanks to rationing, women could only get two pairs of shoes per year.
During the late 40s, things started to look up as far as styles for women's shoes, let's find out why.
Women celebrated the end of WWII with shoes
For many reasons, when America was involved in WWII, fashion wasn't exactly the first thing on people's minds.
"I would hate for someone to look at my shoes and say, 'Oh my God! They look so comfortable!" — Christian Louboutin
But the war ended, and:
It marked a critical time for women's fashion — especially their shoes.
Finally, women's shoes had
Color

Style, and most importantly

Heels
Not just any heels, either:
Big, tall, glorious, stiletto heels.
Stiletto heels
Naturally, women wore heeled shoes well before the stiletto came along.
But they were different:
The heels at the time were more like platforms instead of the all-familiar silhouette we are all used to today.
There are a whole host of people to thank for heels — way too many to name here.
Here's the scoop:
But since we're talking about the past 50 to 60 years, that's when the stiletto made its appearance.
According to popular opinion:
The man who invented shoes with a stiletto heel is Roger Vivier. Unsurprisingly, the creator is a male.
Fun fact:
Stiletto is the name of a weapon. That makes sense since there is a slender metal core in the center of every heel. At the Louvre in France, visitors have to wear special plastic covers on their heels to protect the floor.
Speaking as a woman who wears these shoes, there's a certain love/hate relationship going on.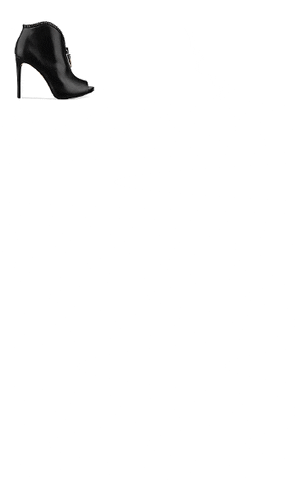 They make our legs and butt look amazing, and the resulting lines are stunning.
"A naked woman in heels is a beautiful thing. A naked man in shoes looks like a fool." Christian Louboutin
On the other hand, the shoes push our toes into the pointy end which causes them to sort of light on fire.
As a result:
Some women find it difficult to keep on trucking.
But for those of us who love this type of shoe, it's totally worth it.
A lot of women don't wear shoes like that, ever, and that's absolutely okay too.
Let's be honest:
Most of us save the heels for special occasions when we know there will be a chair.
Doc Martens
Shoe manufacturer and cultural icon Doc Marten fit into this time period for a couple of reasons.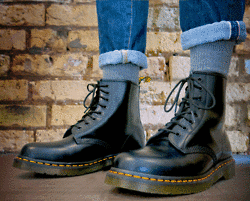 First, for the women who were not wearing heels, boots became incredibly popular.
Mind you:
Both the military-style and the square-heeled kind made appearances at that time.
But it was the Dr. Martens that changed the game.
Dr. Klaus Maertens was a soldier during WWII. While recovering from an injury, he created an air-cushioned sole versus the standard leather of that time.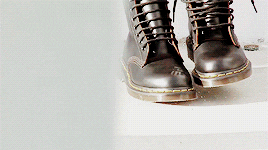 For decades, Dr. Maertens sold his boots, marketed as an orthopedic device, to mostly older women in Germany.
Then, the Griggs family took notice from over in England.
In the late 1950s:
The Griggs acquired the necessary license, collaborated with Dr. Maertens, and created the Dr. Martens 1460.
The Griggs family didn't change much about the boot.
However, they added a few key features we all know the love — the "branded heel loop," the yellow stitching, and the "two-toned grooved sole edge."
Fun Fact:
Pope John Paul II ordered his very own pair of custom made white Doc Martens.
That moment was the birth of a boot that you can find people wearing nearly all over the globe to this day.
The 1960s Doc Martens
Doc Martens were not popular right away.
But Pete Townsend from The Who changed that:
He sported a pair, and it was game on.
After that, the boots helped revolutionize footwear for both men and women.
"Doctor Marten gave his boots to the worldso that everybody could be freethey're classless matchless ageless and waterproofand retail for only 19 pounds and 99p" — Alexai Sayle
For men, the style of the Doc Marten boots caused men's dress shoe designers to start thinking outside the box.
That inspiration meant more diversity in design.
For women, in the late 60s, the feminists found Doc Martens. At that time, designs for women were extremely, well, feminine.
Feminists fell in love with the new style of these butt-kicking boots.
Platforms Keep Making a Comeback
While we may have to search forever to figure out who invented shoes there's one thing we can count on in modern times:
The old styles always come back around.
Take platform shoes, for example.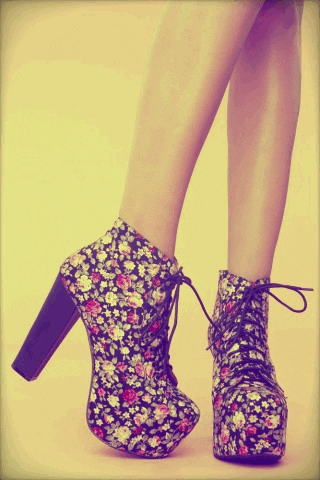 In the 1970s, platform shoes made an appearance, though it wasn't their first time. Historically, platforms have been around since the 1600s.
Check out some killer 70s style platforms:
Then, in the 1990s, platform shoes splashed back onto the scene once again.
One of the most notable things was this:
The new styles were nearly identical to the old ones.
Jelly Shoes and Crocs
You can't really talk about shoes throughout the ages without bringing up a couple of popular styles made from modern materials.
Sadly, we don't know who invented shoes made out of jelly, but we do know that they made their appearance in America in the early 1980s.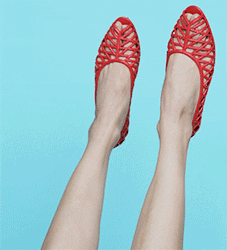 It was then designers figured they could use jelly.
After that:
Shoes like Crocs popped up on the market.
Crocs, like stilettos, are shoes that everyone loves to hate. Though, obviously for very different reasons.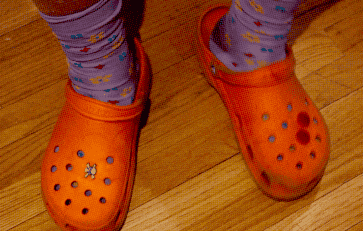 Let's all be really honest:
Crocs are not good-looking shoes. Frankly, they're hideous.
Fun fact:
During Croc's first full year on the market, they generated $1.2 million in sales. The shoes are so popular that the following year sales leaped to $12.3 million.
However, according to the millions of people who swear by them, Crocs are like heaven for your feet.
For the people who love Crocs, their appearance is secondary to their comfort.
Shoes Of The Future
Now, we know who invented shoes with air cushions in them.
We also know who invented shoes with rubber soles and stiletto heels.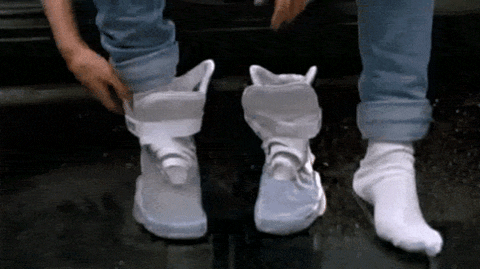 At first glance, especially since certain shoe styles just keep coming back around, it's easy to think that nothing new is going on.
Well, get excited:
Because, after all, it is 2019 — the future is here, and it hasn't forgotten about shoes.
Shoes That Lace Themselves
First, we found out who invented shoes that tie themselves Back to the Future style — Nike.
If that style isn't for you:
Nike already has a basketball shoe that works much the same way, but it's also connected to your smartphone.
Shoes That Do Everything Except Walk For You
Well, it's official, we know who invented shoes that do everything for you except walk — Digisole.
Take a walk on this wild ride:
These shoes can:
Charge your electronics

Keep track of your fitness

Heat your feet

Track your movements

Light your way

Track your walking patterns for changes in your gait
You control everything through your smartphone.
So Many Shoes So Little Time
While we wish we could tell you definitively who invented shoes — that's impossible.
Here's what we can do:
We can certainly all agree that over the past 50 years, some really important innovations have come along.
When it comes to shoes, considering what we learned today, there are still new designs just around the corner.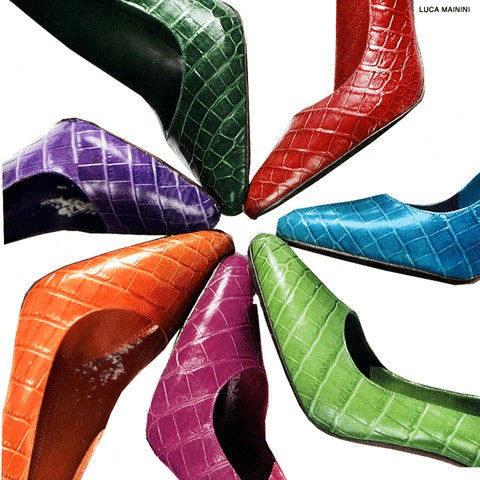 One thing is certain:
The future is here, and it's looking pretty sweet.
Which are your absolute favorite shoes of all time? Let us know in the comments!